It's the end of week 3. I'm already in the groove at work and that's been really good. Have I mentioned that they sanitize the phones once a week? Cause they do that, and the lady just came by cleaning my phone.
Work is work. Pipes, ducts, space proofing and the like. I'm not getting to do my own plant design just yet but we'll see what happens. But it's the little things that make working out here interesting. For instance, I've been working on an educational building at a sludge plant. This place has a pool area with three pools (perfectly clean pools, heated with excess heat). Again this is at a sludge (or sewage) treatment plant. "Kids the field trip is to the sludge treatment facility, bring your bathing suits." If that's your kid, are you signing that permission slip?
Fun fact, unlike Arup New York, here they actually have the Annual Dinner (basically a Holiday Party) in December. What a thought.
So far I haven't found middle class, modest shopping. It's either really high end, fancy-pants malls (which all the same designer stores) or it's cheap stuff on the street. I'm not saying it's not here, but I can't find it. (Sunday update: I found some. More on that later on.)
I haven't seen the giant Buddha everyone's told me about yet. But it's on my list of places to visit.
Okay it's time for a beer and I'll finish up later...
So guess what I did saturday? Saw the giant Buddha. Or the Tian Tan Buddha in Ngong Ping, a Buddhist village on Lantau Island. It was a really cool trip. So at the end of one of the MTR lines, I took a gondola to the village. The gondola trip alone was worth it; the views are stunning! Just these island mountains covered in green, and then the sea. Side note, in the gondola with me was a guy who works in the village and he told us about the emergency rations stored in each gondola car in case of any long stoppage. He told us about a 20 km bridge that's just starting to be built from Hong Kong to Macau and Southern China. I thought that was pretty cool, and I think I know a one time bridge engineer who might also.
So anyway the base of the gondola is a pretty commercial. They're catering to the tourists. But it's nice and I sat outside and had some nice dumplings and a hoegaarden (a real beer!!!!) before continuing through to the Buddha statue itself.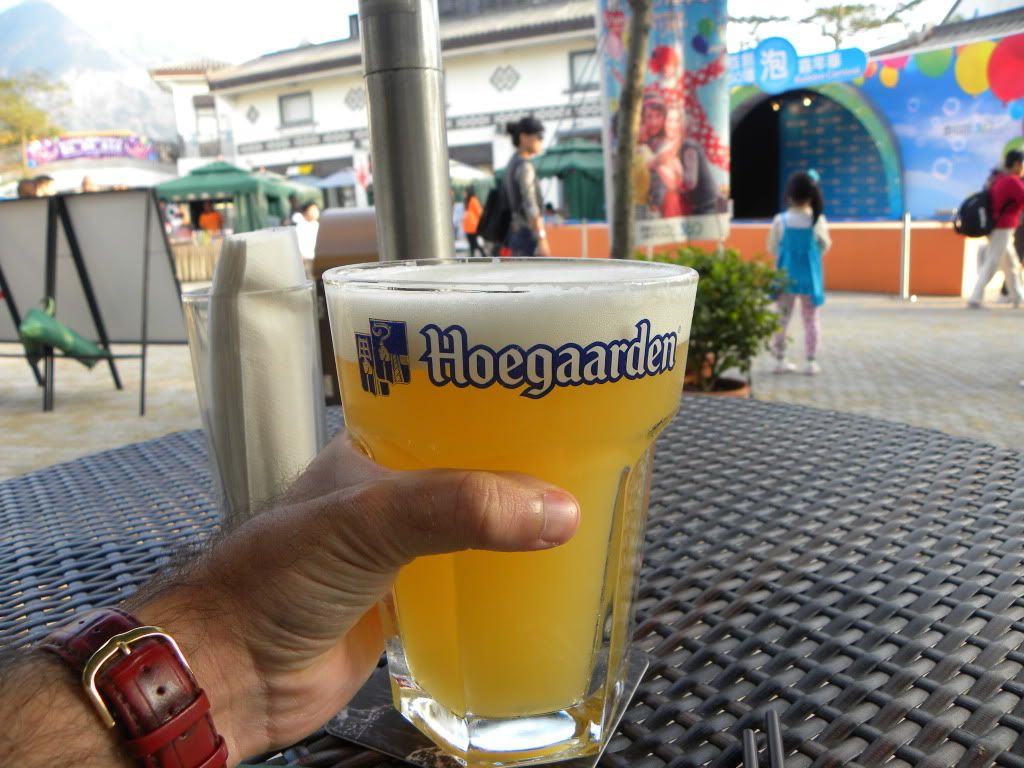 There's a big arch and series of statues of the 12 heavenly generals. Each represents a different 2 hour period of the day and has it's own weapon.
From here I reached the steps of the Buddha statue itself. 300 steps to be exact. I hiked up and got a closer look. There are some great views from the base of the statue!! I took some pictures of the surrounding village and the sun setting over the hills. Again, just magnificent. My favorite part had to be the statues kneeling and making offerings to the Buddha. You can see one of them below.
Inside, there are a number of artifacts that were impressive to look at but I had no idea what their significance was because I couldn't read any of them. Wish I had my sister with me to explain them to me.
I simply loved the afternoon, despite the hour long line for the gondola back. I need to go back to see the Po Lin Monastery. If I have someone to go with me, I might try to hike the trip from the MTR station instead of the gondola...
Well it's getting late and I'll check back in shortly with the news on the apartment and how I found medium range shopping.
My last sentence is about Nic Cage so I have an excuse to use that tag again.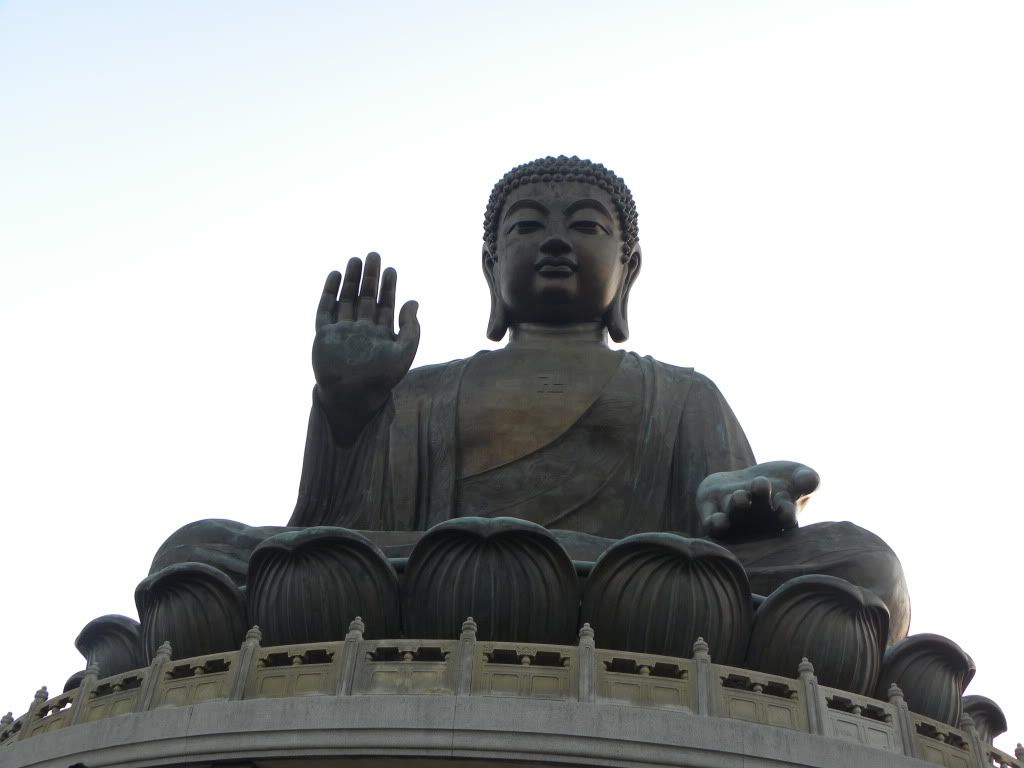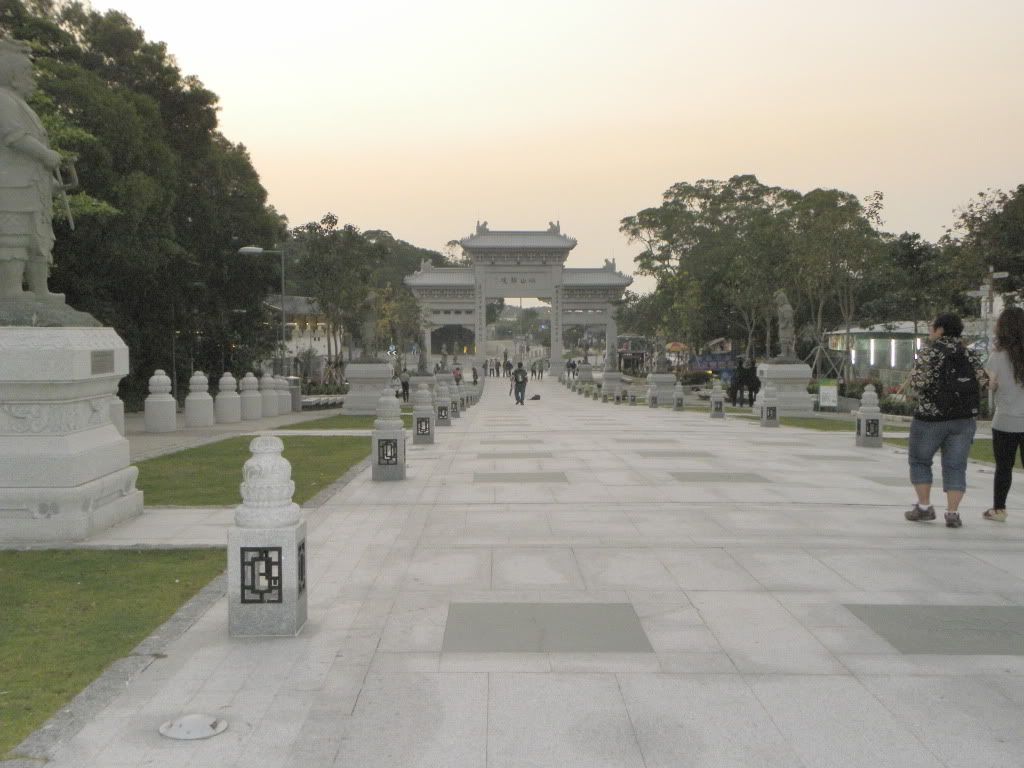 And for more photos check out the
album.
Cheers!!